Shopping Basket
Your Basket is Empty
There was an error with PayPal
Click here to try again
Thank you for your business!
You should receive an order confirmation from Paypal shortly.
Exit Shopping Basket
| | |
| --- | --- |
| Posted on 31 January, 2017 at 15:15 | |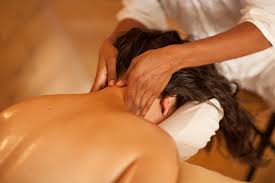 What can massage therapy do for you?
The main reason clients visit Delucia Holistics for regular massage therapy is the level of relaxation and stress reduction that they achieve.
In todays society stress is on the increase with pressure coming from different sources, work-related stress, pressure at home and in relationships, worry and financial problems.
When a person is stressed they hold their body in a state of tension and strain which leads to muscle fatigue, soreness and stiffness - and they can experience muscle spasms caused by anxiety. If you carry tension in your neck, shoulders and back then massage therapy can bring relief. Other physical symptoms of stress include nausea, racing heart, palpitations, digestive problems, changes in appetite, insomnia etc.
Some clients are sat at a desk at a computer, or in a car driving for the majority of the day which can lead to muscular aches and pains that regular massage can relieve.
Mums and Dads with young children can often benefit from a little me time, as caring for children can be exhausting leaving little time for relaxation. Also carrying a small child on your hip, in your arms can lead to muscular pain and tension.
Pregnancy and post-natal massge can support a woman emotionally and physiologically when her body is going through many changes.
Media images can foster unrealistic expectations leaving individuals dissatisfied with their body and and with a distorted view of their image, which has a negative affect on self-esteem, confidence and sociability.
When a client enjoys massage therapy at Delucia Holistics, it gives them a safe space to wind down, and encourages deeper and more relaxed breathing, encourages better quality sleep. The relaxation reduces tension and the affects of stress, relaxes the mind and is soothing and comforting. Clients report that they feel more positive following a massage.
With a weekly programme of massage the clients immunity is boosted, and anxiety levels decrease. Clients report increased energy levels. This allows a sustained relaxation of body and mind. In addition massage improves the body image, awareness and self-esteem and is especially beneficial during weight loss programmes.
Categories: Massage Therapy
/