Shopping Basket
Your Basket is Empty
There was an error with PayPal
Click here to try again
Thank you for your business!
You should receive an order confirmation from Paypal shortly.
Exit Shopping Basket
| | |
| --- | --- |
| Posted on 13 December, 2018 at 9:10 | |
Chakra balancing: your guide to a more balanced you.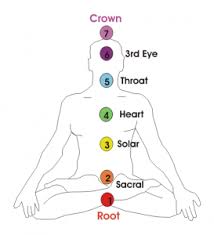 Have you ever lost a loved one, experienced a break-up, or grieved in some way? Do you remember feeling that pain in your heart, even though there is no physical reason for the emotion to be connected with your heart? That pain is a blocked chakra, the grief blocks the chakra known for love and compassion, located at the level of the heart. When we feel that pain in our heart, we are feeling a blocked chakra.
Keeping your chakras balanced can help with a whole range of emotional and physical issues. These 7 points of energy are located in different points of the body, and correspond to different problems. The 1st chakra, or "The Root" is located in the tailbone, and when imbalanced can cause the sufferer to experience problems with arthritis, sciatica, and digestive issues. As you move farther up the body you have different chakras that correlate to different issues.
If you think your chakras may be out of balance, you can bring them back into alignment in a variety of different ways. If you have a specific wound you are focused on healing, you may need to find the chakra that correlates to it before you can begin, but it is helpful to go over all the chakras. Not sure what they are? Here is a quick overview:
The Main 7 Chakras and Signs They Need Balancing
1. The Root
Anxiety, Base Fear, Nightmares
Arthritis, sciatica, digestive
2. The Sacral
Clingy, numbness, self esteem issues
Infertility, back pain
3. The Solar Plexis
Victim Complex, lack of confidence
Digestive issues, liver problems
4. The Heart
Grief, shyness, loneliness
Heart problems, poor circulation, asthma, lung issues
5. The Throat
Verbal expression
Thyroid, hearing, mouth ulcers
6. The Third Eye 
Delusions, paranoia
Migraines, sinus infections, seizures
7. The Crown
Aimlessness, lack of spirituality
Neurological problems, nerve problems, Alzheimer's
These chakras start with the Root at your tailbone and go all the way to the top of the head with the Crown. In order to balance your chakras, you can find help in a number of ways:
Reiki
A reiki healer can use spiritual energy to pass over your body and open your chakras one by one, unblocking those that can't flow properly, and balancing energy. Reiki healers work by manipulating energy, and it is usually a hands free proces.
Meditation
You can also do this yourself through meditation, visualizing each chakra as a ball of colored energy, and opening them yourself one at a time. If one of your chakras are blocked, don't be surprised if opening them comes with a surge of emotions you weren't prepared for. The release of a blocked chakra can often come with a release of the pent up emotions associated with the chakra as well.
Yoga
Last but not least, you can perform chakra yoga to target specific chakras and open them. Different postures correlate to different chakras, such as ones involving the hips targeting the Root. You may need to sign up for a chakra class in order to do this properly, but youtube videos are also available to get you started. 
If you have questions regarding Chakra balancing let us know in the comments. Chakra balancing can be beneficial for everyone. Whether you are just curious, or are dealing with real and physical symptoms, taking a look at your chakras and making sure they are flowing properly is a wonderful way to help yourself.
References:
http://www.chakras.info/heart-chakra-pain/
https://www.mindbodygreen.com/0-13433/warning-signs-your-chakras-are-out-of-balance.html
http://www.thelawofattraction.com/7-chakras/
http://www.chakras.info/blocked-crown-chakra/
Categories: Reiki Healing
/